Back to all posts
Posted on
CONGRATULATIONS to Chloe Gregory and Addison Hough for bringing home the NATIONAL U16 RINGETTE GOLD MEDAL!!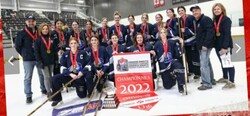 After a long week of play, Team Alberta brought home the Gold medal in sudden-death overtime at the Seven Chiefs Arena in the Tsuut'ina Nation.
The girls brought the heat early on and maintained the lead for the majority of the game.  It wasn't until there were 3 minutes left in the final period, that Team New Brunswick kept on the pressure and scored the tying goal to put everyone on the edge of their seats. 
With 3 minutes into overtime, Team Alberta captured the winning goal.  The entire arena erupted and was cheering for the girls.
We are so very proud of each team member, you worked so hard throughout this year and played to the best of their ability.  It is an honour to have you represent Alberta and the memories that you have made not just this past week, but throughout the year will be treasured for years to come.
All of the teams that represented each province should be proud of their accomplishments, hard work, team effort and sportsmanship. 
Such a great way to end the season and all the best next year too!