Back to staff directory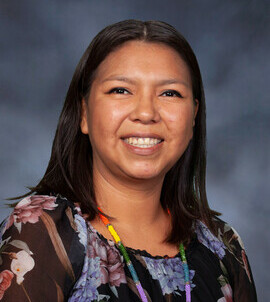 Support Staff - First Nations Liaison
Oki, my name is Mrs.Karalie Red Old Man.
I am currently employed with Golden Hills School Division as the First Nations Liaison for Wheatland Crossing School. I love my job and working with all the students has been a true blessing! One of the greatest parts of my job is being able to share my Indigenous culture, values and knowledge with the staff and students who are interested in the Siksika (Blackfoot) way of life. One of my duties as the FN Liaison is to support students with academic support, encouraging participation in Native Club, initiating and encouraging participation in cultural events and supporting all activities in our school.
My claim to fame is graduating from the former Central Bow Valley school in 2007, where many of my colleagues were once my teachers. I am also currently working toward the completion of the remaining 12 courses for my Bachelor of Arts, International Indigenous Studies Degree from the University of Calgary. I became part of the Wheatland Crossing School team on Jan 29th 2019 and I love the relationships and partnerships I have assisted in creating between Siksika Nation and the Golden Hills School Division with Wheatland Crossing staff, students and parents.
I currently reside on Siksika Nation with my husband and our 4 children, One of the values we share is being able to support and encourage our children to participate in physical activity in both traditional and western cultures. One of my great parental feats is being able to create all 4 of my children's traditional dance regalia which is a continuous process as each year they grow and enhance their skills during powwow season. During the winter months, both my sons play hockey, my youngest daughter figure skates and my oldest daughter is our talented entrepreneur/artist. When we are not in the powwow, hockey or skating arenas we can be found enjoying the outdoors by hiking, swimming or camping. When I am not busy with my family, I volunteer my time or artistic talents when and wherever I am needed.
I am but a humble wife, mother, role model and teacher. I Instruct learned philosophy by nurturing and encouraging the lifelong knowledge and growth of my students. A value I hold dear is understanding that our children are gifts and our job is to nurture, encourage and instill values and talents that they will carry throughout their life. My goal as the FN Liaison is to share my cultural knowledge, history, arts and language, as well as set our children up for success by supporting them academically wherever needed. I am humbled to be able to give opportunities to build self esteem, by encouraging them to strive for their dreams, to be proud of who they are and to create safe space for everyone to learn and be themselves.
The Iinii (Buffalo) was used for everything, food, shelter, clothing, tools, technology ect…Education is our new Buffalo.