Back to staff directory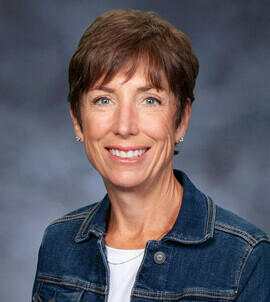 Grade 2
Phone: Voicemail Ext 9207
Hi. My name is Patti Dahm.
I currently teach grade two and have been since our new school opened in May of 2016. I am one of the originals, having been a teacher in East Wheatland since I began my career in 1990.
As a graduate of the former Standard School, I began my educational journey at the University of Victoria. Before embarking on my career, I took a couple of years off to travel and see the world, landing my first teaching job right back where I started, Standard School. After many years of teaching grade four and guidance counselling, I decided I needed a change of scenery and headed overseas to teach in the middle east and do some more travelling. After three years, I returned home to Standard School, this time teaching Kindergarten through grade eight before settling into grade one and two. I have been teaching straight grade two for several years now and believe I have found my sweet spot!
Grade two is that magical year when students make the transition from learning to read to reading to learn. I believe it is one of the most pivotal years in a child's school journey. I feel humbled and honoured to be a part of that journey. The one thing we are sure to do every day in our classroom is laugh. In my opinion, there is no better backdrop for an open mind and an open heart than a shared chuckle.
I live on a farm near Rosebud with my daughter, a proud graduate of Wheatland Crossing. She has now moved on to her post secondary journey. I enjoy travelling, country life and anything outdoors.
Each morning, when I walk into our school, I feel thankful and could not imagine teaching anywhere else. Our students, staff and parents are second to none.