Back to staff directory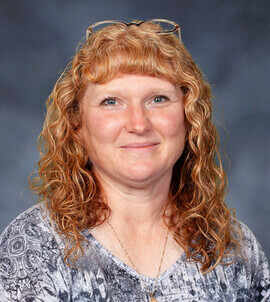 Kindergarten Teacher
Hi!! I am Deb Klics.
I am the Kindergarten teacher at Wheatland Crossing School. I graduated from the University of Lethbridge and started my teaching career at the Rockyford and Standard Schools. I started teaching half day Kindergarten at each school more than 25 years ago. I love teaching at a school in the country and enjoy looking out at the fields watching the seasons change.
I live in Strathmore with my husband, 2 kids, and black lab Sadie. I love to paint, do pottery and read. I am part of the Wheatland Society of Arts in Strathmore and the Calgary chapter of the Federation of Canadian Artists. I also love camping and fishing in the spring and summer. Nothing beats a campfire, a well cooked marshmallow and a glorious sunset!!
I believe we are all lifelong learners and learning never ends. We are all capable of learning new things all the time. I enjoy seeing the students when they "get it" and their smiles when they have learned or discovered something new.
It is wonderful to be part of the staff at Wheatland Crossing School and I enjoy being a part of the student's lives who attend this great school.