Back to staff directory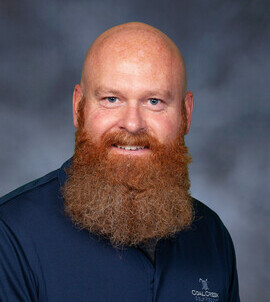 Jr. and Sr. High PE and Woodworking
Phone: Voicemail Ext. 9227
Room 125
Hi, I am Cameron Holloway.
I teach Physical Education classes for Jr and Sr High students. I also teach CTS courses in Construction and Metal Fabrication.
After graduating from University of Lethbridge in 2001, I began teaching with Golden Hills School Division. I spent 8 years at Central Bow Valley School, transferred to Standard School in 2009, and then joined Wheatland Crossing School. I have been involved in athletics and coaching throughout my teaching career and am currently the Athletic Director for our school.
My wife and I have four children and live in Arrowwood. She works at Arrowwood Community School and our children attended that school up to grade 9. My eldest two graduated from Wheatland Crossing before attending university in Lethbridge. Our younger two are currently in high school at Wheatland Crossing. We spend as much time as possible with our larger extended family and enjoy camping and holidays together.
I enjoy teaching in the shop and the gym. This often gives students a chance to try something new and different from regular academic classes. Discovering skills and talents in these environments allows students to gain confidence and become more well rounded. I enjoy connecting with students and seeing the pride of finishing a project or mastering a new skill or sport. I hope that these experiences build components of character that will last a lifetime.