Back to staff directory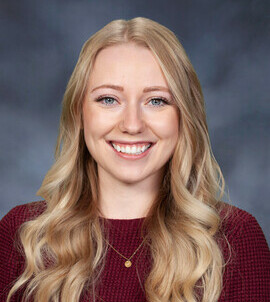 Inclusive Education, Jr. High LA, Jr./Sr Graphics & Design
Phone: Voicemail Ext 9009
Hi! I'm Alex Kathol.
I am excited to be able to teach a variety of Junior and Senior High classes this year. I have spent the last 6 years teaching elementary and am looking forward to working with older students and helping them continue to develop as learners this year.
I am a product of Golden Hills School Division, graduating from Standard School in 2010. Following high school, I graduated from the University of Lethbridge in 2015 with a Bachelor of Arts in English and a Bachelor of Education. I spent my first year teaching at Central Bow Valley School in Gleichen and was then moved to Wheatland Crossing after the school merger. I have now been teaching at Wheatland Crossing for 5 years. I really enjoy teaching in the communities that I grew up in and love being a part of the Wheatland Crossing community.
I currently live in Strathmore with my fiancé but hope to one day move back out to the Rockyford area. I am actively involved in the ringette community in Rockyford, where I enjoy both coaching and playing the sport. In my spare time I enjoy hiking in the mountains, gardening, and crafting.
My teaching philosophy focuses simply on making connections with my students. I believe that once a child feels safe and seen, it can help them unlock their potential. I believe that every child can learn when given the proper environment and the opportunity to do so in a way that is suited to them. The moment that a child realizes their own potential is something that stays with you for a lifetime.
I am so proud to be a part of the Wheatland Crossing Staff and feel so thankful that I get to spend each and everyday helping our students become life long learners.